Learn How Enterprises Run CloudBees Software Delivery Automation (CI/CD) as SaaS
Moving to the cloud can be a powerful thing, but many organizations aren't sure how to get there – and when they do, who manages it?
Submit your details to watch our webinar recording. Our panel of subject matter experts from CloudBees, iTMethods and AWS discuss how to run a managed version of the DevOps automation tools you know and love, including CloudBees Software Delivery Automation (CI/CD), as SaaS.
In this webinar you will learn how iTMethods helps to solve DevOps Toolchain Challenges:
Focusing Limited Resources on Business Priorities
Software Currency
Operating Securely in The Cloud
Functional Expertise Gaps
Ability to Execute Quickly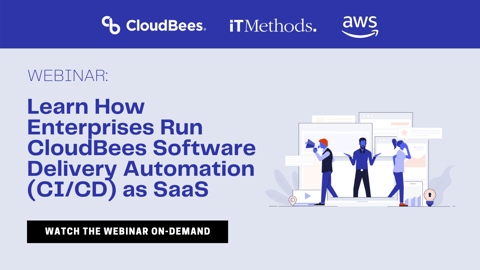 iTMethods' reliable, scalable, single-tenant Managed DevOps SaaS Platform delivers 45+ leading DevOps tools as a Managed/SaaS service, solving for integration and visibility challenges across your entire toolchain.