Cloud Transformation is here, are you ready?
If Atlassian products are critical to your organization, such as being a core part of your DevOps toolchain, you need to consider a viable migration strategy ASAP.
While most large organizations are already working on migrating to the cloud as part of an overall digital transformation strategy, moving all of the Atlassian products your team relies on is a complicated, high-stakes undertaking that now has to be addressed urgently.
There's no one-size-fits-all approach to moving your Atlassian deployments to the Cloud, and setting your organization up for success. In this webinar, we answer some common questions about migrating to the cloud, including:
What are the options, especially for organizations with large, complex Atlassian deployments?

What should organizations be doing right now and what is the timeline to be aware of?

What are the challenges and opportunities associated with moving to the Cloud?

How can organizations get the most value out of running their Atlassian deployments on the cloud, as soon as possible?
Access the full Webinar Recording on-demand, by submitting the form.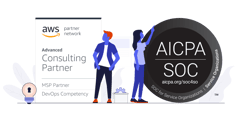 View the Webinar Recording